How To Do A/B Testing Successfully?
Robert Siebor, 2 years ago
0
4 min

read
4073
If you've ever wondered how should you do something, which design is better or which email is better, then this article is for you. I'm going to tell you all about A/B testing, how to do it and how to ensure it's successful. But first, why should you consider doing A/B tests?
Are You Missing Out?
There's a lot of benefits to A/B testing. It provides great insights into how to attract more people onto your website, how to better communicate with your audience and how to gather their attention. Chances are, your competitors are not doing such tests so it's a great opportunity to stand out and grow your business. Besides that, A/B tests are relatively quick and cheap to conduct. They are very specific in what they test and are fairly easy to do. In order for them to be successful and bring you great benefits, you just need to remember a few things.
1. Test One Thing At A Time
Don't get lost with the things you want to test. A/B testing is only effective when there's a single variable. Don't test multiple things within a landing page. For example, if you're testing CTAs, don't test the illustrations or the copy at the same time. If you focus on multiple things, the results will not be accurate or clear and, ultimately, it's just a waste of time. Design your tests so that there's only one thing that changes between the test version and the control version. 
2. Test The Details
While it may seem like it's better to just test everything all at once, sometimes, it's the minor changes that can greatly impact your conversion rates. You don't have to redesign the entire website, maybe a small change in the buttons or your copy will do the trick? A/B testing is all about trying out new things and reviewing how they impact your business goals.  Even a slight design mistake can greatly impact your conversion rates.
3. You Can Test Big, Too
It's possible to test bigger elements like entire emails or landing pages with the A/B testing method, however, it is usually harder to find the exact spots that need improvements. So, if you decide to do a test of an entire bigger element, you might want to consider doing smaller tests later on, to get a better overview of the details. With this type of testing, you will need to design two completely different elements (like emails or landing pages) and test them against one another and see which one brings better results. After you've determined the winner, test specific things on the winning element to see if there's anything that could be done even better.
Subscribe for exclusive access
Get more case studies, tips and tech insights every month
Thank you for subscribing 🙂
4. Measure Everything (Or At Least As Much As Possible)
A/B tests can be tricky in a sense, that sometimes it's hard to determine what improvements to make and what results the test had exactly. That's why, you should measure as much of your sales funnel as possible when doing A/B tests. This is the only way to get a clear answer whether you should change something on your test subject or not.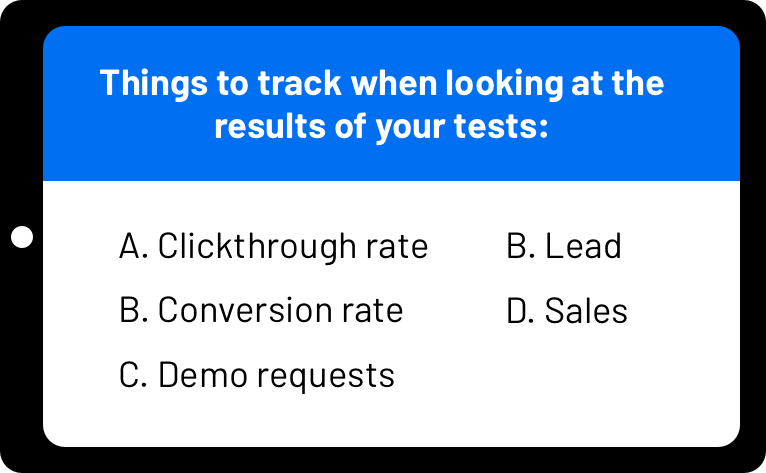 5. Randomize Your Sample Groups
When doing A/B tests, one half of your website's visitors will be directed to a control version A, and the other half will be directed to a test version B. You need to make sure that both of those tests happen at the same time (you can't test version A during one month and then test version B during the next one) so that your results will be accurate. Also, you need to evenly split your traffic onto the A and B versions as well as make sure that it's a completely random process. This is especially important for emails. For example, when you're testing an email, each one of the versions must have a similar group of recipients. List sources, list type, and the length of time a particular name has been on a list are all factors that may cause large differences in response rates. Take that into account when planning your A/B tests.
6. Define Success
Before you even start testing, you should know what are your goals for the tests and what results are significant for you to implement the variable. It's important to set certain goals that will indicate whether the test version is actually better. Experts say that 95-99% statistical significance is good enough. If this doesn't mean anything to you, I'd recommend checking out this article about how statistics play into your conversions and how to set your metrics and goals.
A/B tests are a great tool to have, especially when your business relies on online channels. Remember the rules above and you should have a great time improving your website, email campaign etc. However, if you need any help designing test versions, conducting the test or implementing the changes – you can always contact our team who are always willing to help!
Related posts
Subscribe to our newsletter
Get more case studies, tips and tech insights every month!
Thank you for subscribing :)