The Best Tools For A Project Manager
Iga Wójtowicz, 5 months ago
0
9 min

read
314
Project Managers have a very important and hard job to do. Project planning, resource management, motivating team members and task management are just a few responsibilities of a Project Manager. Fortunately, there's a lot of great project management tools and project management software that you can use to make managing your projects easier. Here are the best project management tools you can test out:
Asana
Chances are, you are already using or have used Asana before. It's one of the best project management tools out there and is very popular with teams all around the world. It's relatively easy to use and combines a bunch of useful features like file sharing, time tracking and multiple projects management. One of the things that people love about it is its simple and intuitive user interface with a clear hierarchy of projects, tasks and sub tasks. As a web-based tool, Asana is frequently updated and available on most devices. You can also download a mobile app for iOS and Android for on-the-go access.
Top Features:
Multiple projects management
File sharing & file storage
Project scheduling, assigning tasks and managing project progress
Agile project management templates
Setting milestones and tracking your team's progress
Pricing:
Asana is free for teams of up to 15 people but you can upgrade to Premium at $8.33 per user per month. You can also give it a try with a free trial.
JIRA
Along with Asana, JIRA is considered to be one of the best project management tools, especially for IT project managers. It's designed for teams to plan and track sprints, report and resolve bugs as well as track real-time progress. It has great project management features for software development teams and enables team members to have all their communications in one place. What makes it great is that it's perfectly designed for software development teams. However, it is a rather complicated project management tool and it does take some time to get the hang of it.
Top Features:
Real-time reporting and time-tracking
Creating user stories, planning sprints
Project management, task management
Team collaboration and communication features
Development work management with features like bug reporting, requests and commit updates
Pricing:
JIRA offers a free 7-day trial. Then the prices range from $10 per month for up to 10 users to $300 per month for up to 50 users. For teams bigger than that, JIRA offers custom pricing.
Trello
Trello could be considered JIRA's and Asana's younger sibling. Not in the sense of how long it has been out on the market but in the terms of its functionalities. Trello is a great task management tool but for rather smaller projects and teams. When it comes to project management software, Trello is a great tool to get you started but chances are, you will quickly outgrow it. On the upside, it's very easy to use and a great way to store your projects in one place. It's also great if you're looking for a planning tool for personal tasks or to track your personal projects online. Because Trello is highly customizable you can use it for many different purposes other than work. Let's take a look at its features:
Top Features:
Creating unlimited tasks
Managing tasks and projects
Image and file sharing as well as file storage
Creating Kanban boards
Assign tasks to team members
Drag and drop tasks to change their status
Powerful add ons
Pricing:
Trello is probably the best project management software you can get for free. This project management tool offers a paid version (of which you get a free trial if you invite someone to Trello) but most project managers find that if you need more features like time tracking, manage multiple projects and tasks etc. Trello might not be enough. If you'd like to purchase the paid version it will cost you $9.99 per user per month to work with this tool.
Paymo
Paymo's interface is similar to tools like Trello. This project management software combines management features with work reporting, time-tracking and billing features. One of its best functionalities is integrated project accounting. It's one of the few PM tools that is taking care of tracking the time each team member has worked on a certain task and automatically billed your clients. Besides that, time spent on a task by each member of the team is extremely valuable information for every PM. It can help you a lot with project planning and to better assign tasks within the team. Take a look at this project management tool' s features:
Top Features:
Real-time tracking of project's progress
Manage projects and tasks
Time management and tracking
Track time and bill clients automatically
Intuitive and simple user interface
Pricing:
You can use a free plan, however, if you want to automate time tracking completely, you will need to purchase Paymo Plus at $9.56 per user per month.
Microsoft Project
Microsoft Project is one of the most popular project management tools with more than 20 million users worldwide. MS Project is a rather complex tools and is not a beginner-friendly one. Microsoft offers two versions of this project management tool: one cloud-based and one available on-premise inside the company. It's a tool that can help you manage multiple project teams and greatly improve your quality of work. Here's some of its best features:
Top Features:
Resource management
File management
Project management templates
Project reporting
Business intelligence features
Create and assign tasks, attach files, manage schedules and plan expenses
Pricing:
This project management tool is not cheap. If you want to manage projects and work with your team using MS Project it will cost you $30 per user per month for the online, cloud version and from $1,159 for on-premise native access to this tool.
Teamwork Projects
If you like working with Gantt charts this project management tool will be a great choice. Teamwork Projects puts strong emphasis on collaboration within the team on a project. It has a lot of great features for comprehensive project plans and helping to organize highly-creative project work. It is easy to start out with and use and many teams swear by it. What makes this tool special?
Top Features:
Project plans and Gantt charts
Time tracker
Reporting tools
Special features that you can customize
Tasks and sub tasks
Manage project milestones
Pricing:
This tool offers three pricing plans. If your team is less than 5 members, you can use their free plan. If you manage more than 5 people, this tool will cost you $10 per user per month or $18 per user per month (if you want to manage more projects and have more storage in your plan).
Easy Project
This is one of the straightforward to work with, easy to use, project management tools. If you like working with tools like the Gantt chart and manage your projects and tasks on them, you will love Easy Project. What makes it special is that Easy Project is not limited to a certain industry and project managers from different sectors work with it. Here's the top features you can use:
Top Features:
Gantt charts for your projects
Critical path and risk management
Team portfolio management
Project management templates (like the Gantt chart template mentioned earlier)
Pricing:
Easy Project, as most task management tools, offers a pricing plan for everyone. There's three plans to choose from. You can get a plan from $6 per user per month up to $19 per user per month, depending on what your team and projects need.
Smartsheet
Smartsheet is a very popular project and task management tool among Fortune 500 companies. In fact, more than 50% of those companies use Smartsheet. Even when working with a critical path, Smartsheet is a tool that can really help you deliver the product. Let's take a look at what you get with this tool:
Top Features:
Project and task planning
Resource management
Budget and time tracking
Strategic planning
Pricing:
With this tool, your team can try it out for free before deciding to use it. You can either choose an individual plan at $14 per month or, if you're looking for a team option, a business plan at $25 per user per month. If your team needs more, Smartsheet also offers custom pricing to suit your needs.
Insightly
Insightly is a bit of a different tool than others on this list. It can both be used for project management as well as business management and sales work. It is a powerful CRM that people with different levels of experience can use easily. If your team needs an all-in-one kind of tool, you might want to consider Insightly.
Top Features:
Leads, contacts, partners, vendors and suppliers management
Project's progress tracking
Milestone management
Powerful and customizable dashboards
Pricing:
Based on your needs, Insightly offers different features' bundles so that you can mix and match the functionalities your team needs.
Copper Project
Copper Project is a very simple tool that can be used by any team – from small, side-project teams to big, corporate teams. This tool simplifies work processes and that's what makes Copper Project so pleasant to use. It makes it very simple to manage your project's resources and communicate on the project.
Top Features:
Project collaboration
Task assignment and management
Task time tracking
Different project templates
File sharing
Pricing:
Copper Project's pricing starts at $49 per month and goes up to $99 per month with unlimited users, unlimited projects, 100GB of storage and full phone support.
Freedcamp
Freedcamp is similar to Trello in that it features a Kanban board that you can use to manage your projects on. It's a very simple tool that can be used to organize your birthday party of deliver complex software. Anyone can learn to work with Freedcamp. One of the best things about Freedcamp is that you can use it for free and only pay for additional plugins.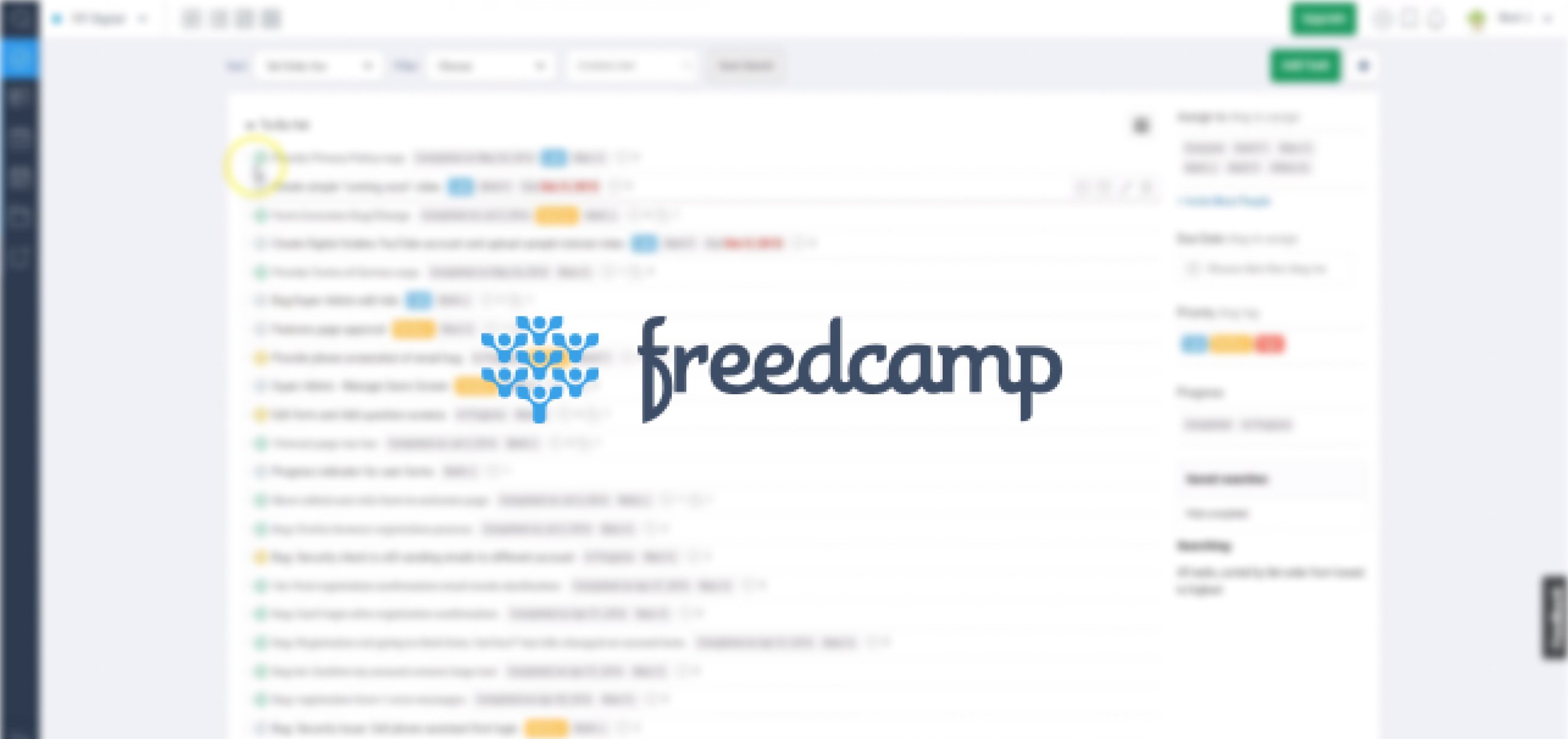 Top Features:
Shared team calendar
Issue tracker
Tasks' management
Multiple project templates
Different plugins
Pricing:
Freedcamp is completely free to use, however you can add extra functionalities and only pay for those.
The Bottom Line
Whether your team wants to work with a Gantt chart or a Kanban board, one of these tools should be a great match for your work needs. Some, like Trello, can even be used outside of work to organize your personal projects. When choosing from these tools, keep in mind the specific type of work your team does and what kind of workflow will be best for you to make the right decision.
If you're looking for an experienced product development team that can bring great tools into your business – contact us and let's talk about your project!
Related posts
Subscribe to our newsletter
Get more case studies, tips and tech insights every month!
Thank you for subscribing :)